Why Should We Train Our Dogs? Ineta Stanley, a 2022 ThreeBestRated® Award-Winning Dog Trainer From London, Shares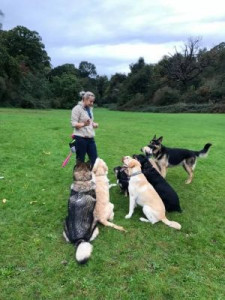 LONDON, February 21, 2022 (Newswire.com) - Everyone loves their pawfect furry companions; however, not every moment with them can be enjoyable, especially when they aren't well-trained. From chewing on the shoes to tearing up the cushion, all pet parents face difficulty navigating their dogs' unwanted behaviours. Pet training not only keeps the dog mentally & physically stimulated, but it also instils a sense of safety in them.
Why should we train our dogs?
Dogs are social animals naturally conditioned to live in a family environment. They play an important role in society as companions, and proper training of these family members is pivotal. It helps prevent or manage their behavioural issues and promotes a successful dog-parent relationship, maximising the benefits people can derive by bonding with dogs.
Each dog is a good boy, but not every dog is well-trained. Some dogs bark when the doorbell rings, some pull the leash while on walks, and some chase after other dogs or pets. Managing this kind of rage in dogs is one part of Dog training that a professional can help.
Sharing her thoughts on rage in dogs, Ineta Stanley from Top Dog Training School & Home Boarding, a 2022 ThreeBestRated® award-winning dog training and boarding school from London, says, "Just like any other illness or behavioural issue, each dog is affected by rage syndrome differently. Dogs behave aggressively due to common triggers such as fear, contact with other dogs, and/or possessiveness."
She further adds, "It is a genetic disorder that can affect some dog breeds like - springer & cocker spaniels, golden retrievers, poodles, etc. A dog should never be bred if they have the rage diagnosed by the vet. It's like a short burst of aggression that can be provoked by anything - touching their food, strangers/other dogs approaching. The vet should discuss the treatment, but sometimes there is no treatment. We should never shout or punish the dog."
Dog trainers can be helpful for dogs of different ages with different issues, from fear to aggression to mastering basic commands. And hiring an experienced trainer shouldn't be considered a reflection of an owner's failure.
About Top Dog Training School & Home Boarding Ltd
Opened in May 2010, Top Dog Training School & Home Boarding Ltd is a family-owned and -operated dog training school in London. The school is different from all other schools as its program is designed for dogs and parents to simultaneously learn in a positive setting while having fun and enjoying the learning process. They help the owners understand their dogs better, so they can live in a mutual understanding and harmony-filled atmosphere.
Top Dog Training School & Home Boarding Ltd provide thorough and in-depth care with their services like
Six-week training courses
One-on-One training sessions
Video Consultation
Puppy Classes - Primary & Secondary
Dog Home Boarding
Day Care
Top Dog "Walkies" - Dog Walking
Socialisation Training
Recall Training
On her recent accolade, the 2022 ThreeBestRated® award, Ineta says, "Being awarded by ThreeBestRated® as one of the best dog trainers is unexpected and overwhelming, especially when there are so many dog trainers in London. To be recognised as top three in London for three years running, being an individual and not a big company, and to be able to run my classes full-time helping people in a fun, relaxed class environment - this is a dream come true."
To know more about Top Dog Training School & Home Boarding Ltd and contact them about the furry friend's training, visit https://topdogtrainingschool.net/.
Source: ThreeBestRated
Share:
---
Categories: Pets
Tags: Dogtrainers, InetaStanley, London, ThreeBestRated
---
ThreeBestrated®
14225 Falcon Head Blvd, Building E (218)
Austin, TX 78738
United States