Vic Goradia, MD Named One of the Top 3 Orthopedic Surgeons in Richmond, Virginia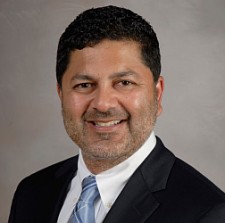 RICHMOND, Va., May 1, 2019 (Newswire.com) - Dr. Vic Goradia was named one of the top three orthopedic surgeons in Richmond, Virginia for 2019 by Three Best Rated®. He faced an intensive 50-point inspection, which included everything from awards to general excellence, in order to receive this prestigious award.
When Dr. Goradia was a biomedical engineering student at Tulane, he became fascinated by the "engineering design" of bones, muscles and joints of the body. "I wanted to use my engineering degree as an orthopedic surgeon, so I could restore patients' joints to their normal anatomy and function," he says. Now Dr. Goradia is a board-certified orthopedic surgeon with a certificate in sports medicine. He completed a fellowship in knee and shoulder reconstructive surgery and sports medicine in 1999. He has been practicing for 20 years and began practicing in Richmond, Virginia in 2001 with a special focus on knee, shoulder, elbow and sports medicine conditions.
Dr. Goradia opened G2 Orthopedics and Sports Medicine in Richmond's West End in 2015. G2 is a boutique orthopedic practice where Dr. Goradia diagnoses patients and provides them with customized treatment options. "Even though I am a surgeon, some patients' conditions do not require surgery," Dr. Goradia says. "I offer non-surgical options including ... stem cell injections." He was the first in Richmond to provide this service. These injections use bone marrow stem cells to treat a variety of conditions, including arthritis, tendonitis, ligament sprains and small tendon tears. "These treatments can promote healing and reduce pain and improve function," Dr. Goradia says. "The procedures are performed in the office and usually do not require time out of work as may be needed after surgery." If surgery is required, he uses the least invasive and most patient-specific procedure available.
Three Best Rated® is the authority on ranking the best local businesses. They use an intensive 50-point inspection to rank businesses and then announce the three best in each respective category. Three Best Rated® eliminates the risk of fake reviews, bias and bad business practices by cutting to the heart of the truth through intensive research and monitoring. They tailor their 50-point inspection to include everything from doctors, therapists, amusement parks, to restaurants and cafes. Best of all? They will never accept money from a business to be listed!
CONTACT INFORMATION
100 Concourse Boulevard, Suite 150
Richmond, VA 23059
Phone: 804-678-9000
Email: info@g2orthopedics.com
Website: https://www.g2orthopedics.com/dr-vic-goradia/
Source: Three Best Rated®
Share:
---
Categories: Orthopedics
Tags: Fellowship trained, G2 Orthopedics and Sports Medicine, orthopedic surgeon, Orthopedics, sports medicine, Surgeon, Three Best Rated, Vic Goradia
---
ThreeBestrated®
14225 Falcon Head Blvd, Building E (218)
Austin, TX 78738
United States