Three Best Rated Award-Winning Houston Urologist, Dr. Dhir, Offers Leading-Edge Treatment for Men's Health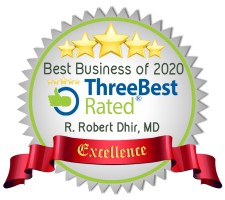 HOUSTON, May 2, 2020 (Newswire.com) - ​​Dr. Robert Dhir is a 2019 and 2020 Three Best Rated Award-Winning Urologist from Houston, Texas. He founded HTX Urology in late 2019 to deliver leading-edge care in Men's Health for the greater Houston area. He is a board-certified Urological Surgeon with expertise in the management of all aspects of Men's Health.
Aside from the common vasectomy, he specializes in treatments for enlarged prostate (BPH), Low Testosterone, bladder and prostate cancers, kidney stones, and erectile dysfunction (ED).
He highlights three new and innovative procedures now available for his patients at HTX Urology.
BPH – The UroLift System
For patients suffering from an enlarged prostate, Dr. Dhir highly recommends a 5-minute procedure called The UroLift System. "It is truly a game-changer," notes Dr. Dhir. This procedure is done in the office or under twilight sedation to treat bothersome urinary symptoms like weak flow, frequent urination during day or night, and a feeling that the bladder is not completely emptying. After UroLift, there is no need for ongoing daily medications. The UroLift System places tiny implants into the prostate to precisely correct the area of blockage without any impact on sexual function. It has minimal bleeding, no physical downtime, and no need for a catheter.
Low Testosterone – Bio-Identical Testosterone Pellets
For patients with Low T, Dr. Dhir advocates for the placement of bio-identical Testosterone pellets under the skin. The procedure takes 5 minutes in the office. It results in ideal Testosterone ranges around 900-1000ng/dl lasting approximately six months. The bio-identical Testosterone is derived from the soy plant and is a perfect match for our physiology, unlike synthetic Testosterone derived from horse urine. Pellets avoid the roller-coaster "ups and downs" of self-injection, allow patients to travel without worrying about bringing vials and needles, and prevent men from feeling like 'pin-cushions'.​
Erectile Dysfunction – Wave Therapy
At HTX Urology, Dr. Dhir has pioneered a protocol called Wave Therapy. A device delivers low-intensity sound waves directly to the penile tissue to restore strong erections without the need for injections, medications, pumps, or invasive surgery. A total of 6 ten-minute treatments are recommended for a sustainable, non-invasive cure. There are dozens of international scientific publications validating this technology as safe and effective.​
Dr. Dhir's goal is to offer Wave Therapy to patients here in the U.S., where not many physicians have clinical expertise. "It is important to stay at the forefront of medical technology and innovation, and so I have spent a great deal of time researching individualized, novel solutions to these issues," says Dr. Dhir.
Over the years, Dr. Dhir says that positive feedback and patient reviews have been driving him to improve the patient experience, perfect his surgical techniques, and to always remain at the forefront of Men's Health. HTX Urology is now seeing patients in-office or via telemedicine visits to offer his treatment modalities to a wider audience.
Source: Dr. Robert Dhir
Share:
---
Categories: Medicine and Healthcare
Tags: Dr. Robert Dhir, Houston, Men's Health, Three Best Rated, Urologist
---
ThreeBestrated®
14225 Falcon Head Blvd, Building E (218)
Austin, TX 78738
United States