Sydney Criminal Lawyers, a Leading Criminal Lawyers Firm in Sydney, Wins the 2021 ThreeBestRated® Award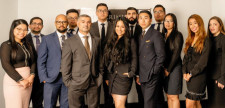 SYDNEY, March 18, 2021 (Newswire.com) - Sydney Criminal Lawyers, a prominent criminal lawyers firm in Sydney, NSW, has won the 2021 ThreeBestRated® award. And it's principal Ugur Nedim is excited to receive the award. He says, "It is a great honour to be recognised as one of the three best rated criminal law firms in Sydney. It is because ThreeBestRated confers the honour after applying an extensive, 50-point check, taking into account a wide range of relevant factors. We are truly humbled and honoured to be included in the list."
The expert team at ThreeBestRated® reviewed various aspects of the firm using 50-point inspection data before honouring them with the award. The 50-point inspection includes checking everything from reviews, ratings, reputation, history, complaints, satisfaction, trust and cost to general excellence.
How it all started?
Ugur Nedim has been associated with the law industry since his high school days. He worked as a legal assistant and as a clerk with a small law firm for over six and a half years. He started his career with a prominent criminal defence firm soon after being admitted as a lawyer in 1998. However, Ugur was disillusioned with the industry's practices. So, he decided to launch his own firm.
Sydney Criminal Lawyers came into existence in the year 2001. Ugur initially named it Nedim Lawyers - Criminal Defence Lawyers. Later it was replaced with the current name. Since then, he ventured out to build the law firm with the interests of clients at heart, providing transparency in costs, maintaining an excellent level of client satisfaction and consistently achieving exceptional outcomes for clients. Sydney criminal lawyers firm is now one of the top-rated law firms in the city.
Sydney Criminal Lawyers - A Class Apart
Since its inception, Sydney Criminal Lawyers has been an innovative market leader. They are the first to bring in several path-breaking strategies in the legal industry. Some of them are:
They are the first criminal law firm in Australia to publicise fixed fees for criminal and traffic law cases.
They introduced a Senior Lawyer Guarantee whereby clients are guaranteed representation in court by a lawyer with years of experience in criminal defence.
They are the first law firm in Australia to introduce a website blog in 2002.
They are into Social media marketing on various platforms since 2011.
It is a firm spearheaded by Accredited Criminal Law Specialists.
Ugur Nedim is proud of his achievement of being an Accredited Criminal Law Specialist. Only a very small percentage of lawyers are recognised by the Law Society of New South Wales as Accredited Specialists, and Ugur has achieved this feat at a young age.
Sydney Criminal Lawyers is a client and results-focused law firm. All of their lawyers are experienced, specialist criminal defence lawyers who have an unmatched track record of providing positive outcomes for their clients. The firm is one of the only criminal law firms operating for 20 years, with the same principal at the helm from the very start. They provide a free first appointment with an experienced criminal defence lawyer. To get in touch, visit - https://www.sydneycriminallawyers.com.au/.
Source: Sydney Criminal Lawyers
Share:
---
Categories: Criminal Law
Tags: #Sydney, #SydneyCriminalLawyers, #threebestrated
---
ThreeBestrated®
14225 Falcon Head Blvd, Building E (218)
Austin, TX 78738
United States