SoCool Pte Ltd, a 2021 ThreeBestRated® Award-Winning Aircon Service Provider, Lists the Top 5 Reasons for Aircon Malfunctioning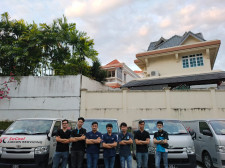 SINGAPORE, April 24, 2021 (Newswire.com) - We are living in an era where air conditioners have become a necessity rather than a luxury. From homes to workplaces, Aircon is ubiquitous. With soaring temperatures, it is pretty hard to imagine a day without an aircon. At such times, What if the aircon malfunctions and fails to blow cold air? Improper maintenance of aircon may lead to such breakdowns. What are the possible reasons for that? Let us ask SoCool PTE LTD, a 2021 ThreeBestRated® award-winning Air Conditioning Service provider in Bishan, about it.
"There are a lot of reasons why an aircon stops cooling. But there are a few important causes," says Lee, owner of SoCool Pte Ltd. Lee lists out the top five reasons:
Dirty air filters and condenser coils
Leaked refrigerant
Aircon compressor is faulty
Capacitor is spoilt
Aircon horsepower is low for a room
About SoCool PTE LTD - Bishan, Singapore:
SoCool Pte Ltd has been in the aircon business since 2016. They specialize in air conditioning servicing and repair. Within a short span, they have grown into one of the prominent Airconditioning services providers in Bishan. Their sheer hard work and efforts to provide high-quality services have rewarded them in many ways. They are in the ThreeBestRated® Air Conditioning service providers listing for over three years. And have won the ThreeBestRated® award for the fourth time in 2021. Lee is proud of their achievements and feels happy about winning the award.
SoCool team consists of highly experienced and expert professionals who are committed to excellence in all their endeavours. They have so far serviced thousands of air conditioners from almost all brands. They offer complete aircon services ranging from regular servicing to aircon overhaul and more at an affordable price. Lee proudly says, "We do provide steam cleaning where only a few of the aircon providers are currently using."
SoCool Pte Ltd focuses on customer satisfaction. They serve round the clock to ensure serving customers in a timely manner. They also provide a 90-days workmanship warranty. SoCool has been helping the residents in and around Bishan to enjoy a better cooling experience without any interruption. To know more about them, visit - https://www.socool.sg.
Source: ThreeBestRated
Share:
---
Categories: Home Appliances
Tags: #AirconServices, #Singapore, #SoCool, #ThreeBestRated
---
ThreeBestrated®
14225 Falcon Head Blvd, Building E (218)
Austin, TX 78738
United States