Pt Umesh Chandra Pant, a 2021 ThreeBestRated® Award-Winning Astrologer From Delhi, Explains the Benefits of Keeping Sphatik Mala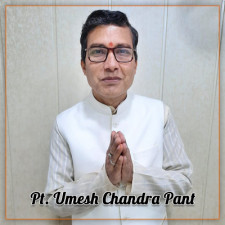 NEW DELHI, April 20, 2021 (Newswire.com) - Original Crystal or Sphatik Mala has been part of the Asian tradition for centuries. People used them for good luck and pleasing the divine power. Now crystals have been used by people throughout the world for their countless benefits. And many have claimed that the crystals can improve people's mood and bring good fortune.
But are these claims really true?
ThreeBestRated® reached out to Pt Umesh Chandra Pant, a ThreeBestRated® award-winning Astrologer from New Delhi. He has been practicing astrology for more than three decades. And he explains some of the benefits of keeping Original Crystal or Sphatik Mala at home.
Benefits of Original Crystal or Sphatik Mala:
It keeps your body temperature cold, which can be very useful in relieving stress and headache.
Improves concentration power; calms down body and mind.
Removes negative energy, brings forth positive vibes.
Maintains the consistency of success, peace, and prosperity.
Rids of faults related to Vaastu.
About Pt Umesh Chandra Pant:
Growing up in a Brahmin family, Pt Umesh Chandra Pant has been extremely fond of his religion since childhood. His childhood exposure to cultural ceremonies typical in a Hindu Brahmin family has led him to develop an undying reverence to divinity and rituals dedicated to Supreme Almighty.
He initially worked as a part-time astrologer from 1988 before deciding to start doing it full-time in 2000. "I know, and I have seen it with my own eyes that astrology has been a great assistance in solving the problem of people," he says.
"It is purely based on science. The ancient Indian sages gave a logical explanation of astrology, saying it is a science benefiting everyone. However, astrology can not work without confiding your trust in it. Astrology works based on the position of planets and study made thereof. According to the Hindu religion, Veda is our precious legacy for which astrology is one of its parts," he further explains.
He worked alone for ten years till 2010, before teaming up with two more people. Today, his practice Pavitra Jyotish has more than 15 people working under him. "I have a team of 15 team members on Pavitra Jyotish, who contribute their services to our cause with the utmost reverence and dedications," he says.
"The reason we made this happen can be attributed to the overwhelming love we received from countless people whom we served over 21 years of our astrological services," he further adds.
Umesh Pant is proud to have helped thousands of people with their problems. "I believe that I am serving people who are frustrated in their lives with their problems, honestly. My happiness knows no bounds when people call me or send me an email informing me that how my service has brought forth positive changes in their lives or solved their problems, such as making headway in finding a new job or getting their delayed marriage resolved, etc..," he says proudly.
He considers helping people his moral responsibility and has always served them with honesty. "I treat every person as if they were my family members. Even our culture, 'Vasudev Kutumbkum' (The whole world is a family) endorses this doctrine, and I want to make it real," he notes.
Umesh Pant has been the recipient of the ThreeBestRated® award since 2019. And he is proud to have received it again in 2021. "I consider myself lucky to have been listed in Three Best Rated. Besides, I congratulate Three Best Rates for such initiatives meant for civic benefits. This will help people to choose the best professionals," he says.
To know more about Pt Umesh Chandra Pant or get in touch with him, visit his website, pavitrajyotish.com.
Contact Information:
Pt Umesh Chandra Pant
Email: care@pavitrajyotish.com
Phone: +91 95821 92381, +91 96677 10281
Website: https://www.pavitrajyotish.com/famous-best-astrologers/
Source: Pt Umesh Chandra Pant
Share:
---
Categories: Faith
Tags: #astrology, #newdelhi, #PavitraJyotish, #Pt _Umesh _Chandra _Pant, #threebestrated
---
ThreeBestrated®
14225 Falcon Head Blvd, Building E (218)
Austin, TX 78738
United States