Peter Byrom Audiology Wins the 2021 ThreeBestRated® Award for One of the Top Rated Audiologists in Sheffield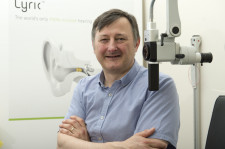 SHEFFIELD, England, March 24, 2021 (Newswire.com) - Peter Byrom Audiology has won the 2021 ThreeBestRated® award for one of the Top Rated Audiologists in Sheffield. This year marks its third consecutive award win. Peter Byrom Audiology has been consistently listed in ThreeBestRated® since 2018.
"Firstly, I really like the model of ThreeBestRated®. I think it works really well and lists me without any expectation of being paid, which is great," says Peter Byrom, founder of Peter Byrom Audiology.
"I was delighted when I found out I had been chosen; cock-a-hoop, in fact. The most important outcome in my business is not profit but client satisfaction. This is the driving force behind everything I do. It is very pleasing to have the result of this deeply held value recognised independently," he further adds.
How it all started
Peter has been in the audiology industry for over 30 years. He was previously a clinical lead for Adult Audiology Services in the NHS for a number of years before concentrating fully on his own private practice from 2017.
"It started off when, at the age of 25, I decided to change my career from being a joiner (City and Guilds Advance Carpentry and Joinery) to something less physically demanding," Peter says. He spent some time looking for the right career and eventually ended up undertaking a week of work experience in the Audiology Department at Fairfield Hospital, Bury.
"I was a bit sceptical before I went on the week of work experience, but I loved it," he says. "So I went back to college and did GCSE Maths and Physics at Bury and Bolton colleges, got a job as an assistant in Barnsley and did English, Human Biology at Barnsley College and Chemistry at Wakefield," he further explains.
Halfway through the year, he got a job at Sheffield Children Hospital, did his BTEC and Professional Exams and moved to the Royal Hallamshire Hospital Sheffield. He then undertook his diploma in Healthcare and then a BSc in Audiology. Later, he moved to Rotherham and undertook MSc at the University of Leeds, all while working full time in the NHS.
What makes Peter Byrom Audiology unique?
Peter has extensive knowledge of Audiology and offers many hearing-related solutions. He makes sure that every hearing aid fitting is verified using a real-ear measurement, which is following evidence-based practice to achieve the best results for understanding speech.
"There are other companies out there who offer similar products and services, but I make sure that every hearing aid fitting is verified using the real-ear measurement. This is a fiddly and time-consuming practice which achieves high satisfaction with hearing aid users but is mostly ignored by the industry," he explains.
"I also have my unique experience and knowledge to offer from the experience of hundreds of complex hearing aid fittings undertaken in the NHS," he adds. Peter has also delivered a talk at the International Tinnitus Seminar 2014 in Berlin about hearing aids, mild hearing loss and tinnitus.
Peter has some exciting plans for 2021, including investing in some new technologies. "I plan to increase my offering to include Vestibular assessment for those who have dizziness - I have invested in new technology to undertake this work," he says excitedly. Key to assessing balance disorders will be the video Head Impulse Test (vHIT) and the Vestibular Evoked Myogenic Potential (VEMP) tests, which are relatively new to the arena.
To know more about Peter Byrom or book an appointment, visit his website: peterbyrom.co.uk.
Source: Peter Byrom Audiology
Share:
---
Categories: Medicine and Healthcare
Tags: #audiology, #bestbusiness, #ThreeBestRated
---
ThreeBestrated®
14225 Falcon Head Blvd, Building E (218)
Austin, TX 78738
United States