Moving Home Made Easy, a 2021 ThreeBestRated Removal Company, Offers Tips for Stress-Free Moving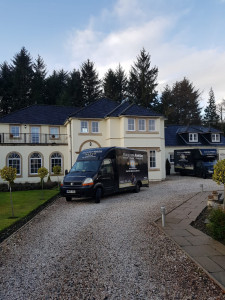 GLASGOW, Scotland, April 10, 2021 (Newswire.com) - While moving by itself causes enough stress, choosing the wrong removal company for shifting creates additional chaos. There are a lot of removal companies out there that do not work as per their promises. Unfortunately, many people fall prey to it. How to choose a good removal company? What are the things that everyone needs to consider before choosing a removal company?
We reached out to Moving Home Made Easy, a 2021 ThreeBestRated® award-winning removal company in Glasgow, to get some tips on hiring removal companies. Their suggestions are:
Always ensure that any quotes you get from the moving companies are via a Home visit and in writing and not over the telephone.
Always check for any surcharges that may be applicable for late keys.
Check out what their cancellation of move date policy is and if there are financial penalties.
Ensure you receive confirmation of your move date on the booking day.
Check out a company's online reputation before considering using its services.
About MOVING HOME MADE EASY
Moving Home Made Easy is a professional local and international service provider that is based on the South Side of Glasgow. They have been offering a wide range of packing, storage, and removal services since 2012.
David Reed, the Managing Director of Moving Home Made Easy, has over 20 years of experience in the moving business. He has a team of experienced professionals who can cater to the client's unique needs and requirements. They have earned a good name in the industry for their excellent customer service. Their hands-on approach and attention to detail make every move stress-free and satisfying for the clients.
Moving Home Made Easy has been rated with 5-stars on several platforms. David says, "The thing that sets us apart from our competitors is the 5-star service we offer customers, where we hold their hand every step of the way. We also provide tips and advice to customers on moving via our unique help center." On winning the 2021 ThreeBestRated® award for the best removal company in Glasgow, David says, "Being on ThreeBestRated helps our customers see our customer satisfaction ratings and assists them in choosing us."
Moving Home Made Easy takes great responsibility and commitment in serving the customers' interests at a transparent and honest cost. They also provide a no surcharge guarantee to their customers. Their move specialists have placed customer care values at the core of their service, which enables them to offer exceptional customer service. Their reviews and ratings stand as proof of it. To get in touch, visit - https://www.movinghomemadeeasy.com.
Source: ThreeBestRated
Share:
---
Categories: Transportation and Logistics
Tags: #Glasgow, #MovingHomeMadeEasy, #RemovalCompanies, #ThreeBestRated
---
ThreeBestrated®
14225 Falcon Head Blvd, Building E (218)
Austin, TX 78738
United States