Matthew Garling, a 2022 ThreeBestRated® Award-Winning Lawyer From Sydney, NSW, Shares Tips for Choosing the Right Compensation Lawyer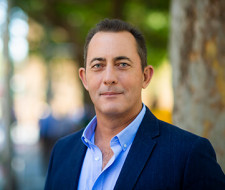 SYDNEY, February 12, 2022 (Newswire.com) - Has a worker ever been injured or disabled on the job? The short answer is -Yes. Accidents at the workplace are pretty common nowadays - be it a back injury from lifting heavy boxes or a broken arm because of slippery stairs. If a work-related injury has left someone incapacitated, a workers' compensation attorney can help recover losses from these injuries, including medical bills and lost wages.
Is a lawyer worth the cost? This is one of the most common questions that comes to mind whenever a person is injured because of somebody else's fault or negligence. People are likely to get a much higher settlement offer when a lawyer is involved. They understand the laws, know how to negotiate, and can use various tools to build up the case.
Matthew Garling, from Garling & Co., shared some useful tips that can help in choosing the perfect compensation lawyer. Here are some of those tips:
Take the time to do the research - not all lawyers are the same but choosing the lawyer that can put the case in a good position will help achieve the best result.
Make a shortlist of lawyers who specialise in personal injury law, accredited by the Law Society.
Take time to speak with each of these lawyers.
Give them the particulars of the case and ask for their recommendations. They should be able to immediately tell if the injured have a claim and what they estimate it is worth.
Ask them to advise how long the claim will take, approximately.
Ask how much it will cost to run the case and how they charge, lump sum or hourly.
It's highly recommended to choose a lawyer who charges on a lump-sum basis, so the client knows what to expect from the outset.
Lastly, choose the lawyer one can communicate best with. It is a long process, and it is vitally important to have confidence in the lawyer a person chooses.
The right lawyer will be able to tell if the injured have a case and provide the right advice to achieve the best possible results for their clients.
About Matthew Garling:
Matthew Garling is the principal lawyer of Garling & Co, a law firm based in Sydney, NSW, since 2001. He is an accredited Specialist in Personal Injury Law approved by New South Wales Law Society. Matthew is admitted to practice in the Supreme Court of NSW and the High Court of Australia. He is also a member of the Australian Lawyers Alliance, a group of lawyers dedicated to fighting injustice from big businesses and insurers. Matthew strives to deliver quality legal representation and achieve exceptional results for every client he advocates for.
On being asked about the new accolade Matthew had this to say," We are delighted to again be selected by ThreeBestRated® in the category of Best Compensation Lawyers in Sydney for this year. Matthew Garling and Garling & Co have been recognised as one of the best businesses in this category since 2018 by the ThreeBestRated®".
Matthew's motivation is to take on cases with a genuine need for an expert in compensation law. He knows that these are life-impacting claims, with clients needing guidance and support during the ever-challenging process. Matthew's calm manner, expertise in the matter and profound experience are the real difference-makers in fighting for what is just and fair. New clients are also often referred to the firm by colleagues in the legal profession and doctors who believe Matthew can do justice with the cases. He specialises in compensation law and has acted for thousands of injured people in work accidents, motor vehicle accidents and negligence cases over the last 20 years.
To book an initial consultation with Matthew email info@garlingandco.com.au or visit the Garling & Co. website https://www.garlingandco.com.au/.
Source: ThreeBestRated
Share:
---
Categories: Lawyers
Tags: compensation lawyer, mathew garling, threebestrated
---
ThreeBestrated®
14225 Falcon Head Blvd, Building E (218)
Austin, TX 78738
United States