Llewellyn Motors, a 2022 ThreeBestRated® Award-Winning Car Dealership From Brisbane, Shares How to Choose Between a New and a Used Car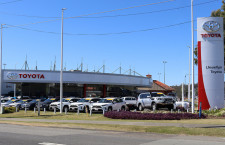 BRISBANE, Australia, March 14, 2022 (Newswire.com) - If a person knows what they want and what it should cost, they are halfway there - but that is not true for everything. Almost everyone has struggled with the decades-old question of choosing between buying a new car and a used one.
Which one is the right choice?
There's no denying the eye-catching appeal of a brand-new car (the new-car smell and the shiny paint) when we see it for the first time. However, pre-owned (market jargon) or used cars also have advantages (some at least). While pondering whether to buy a new or used car, consider all facets like price and other aspects up-front. Some of the things that one should consider while opting for a new or used car include:
Taxes
Maintenance cost
Insurance
Gas & Oil expense
Down payment (in case of a car loan)
Features
Depreciation
The noteworthy thing to always keep in mind is that choosing between a new car or a used one isn't entirely a financial decision (it's not only about the money). A brand-new car may cost less in repair and maintenance costs, but a used car may cost less in taxes, down payment and interest charges. So it is better to consider all variables before making any decision about buying a new car or a used one.
Role of a Car Dealership
A dealership can help the buyer with the dilemma of getting a used car or a new one. They are a gateway to information like discounts, finance options, features, etc. Over the years, car dealerships like Llewellyn Motors, a 2022 ThreeBestRated® award-winning car dealership in Brisbane, have become more than just an interface between Manufacturers and customers. They are an entity giving 360 buying experiences to customers. They ensure that the buyer gets the best customer experience out of their investment in terms of product, deals, experience, and services.
So next time someone needs a new or a used car, seek help from a car dealership like Llewellyn Motors, as they can guide the consumer through the buying process and make it a hassle-free, enjoyable experience.
About Llewellyn Motors - Motoring Confidence
Established in 1994, Llewellyn Motors is a family-owned and run car dealership that serves Ipswich and its surrounding communities. Started by Ross Llewellyn with 30+ years of experience, Llewellyn Motors ensures that their guests are confident not only with their purchase but through owning and driving their cars long after the sale. Their team focuses on creating a great culture of trust and respect.
Their Sales Consultants are well versed, friendly and look forward to the opportunity to coordinate and help guests make the best decision based on their needs. Llewellyn Motors gets the same excitement as their guests each time they deliver that unique experience of a new car.
On winning the 2022 ThreeBestRated® award for one of the best car dealerships in Brisbane, Llewellyn Motors says, "We are honoured to be recognised by our local community and our guests through ThreeBestRated® for the efforts we put in to ensure that we are offering the most exceptional experiences."
Whether it's a new car, a used car or just their award-winning service department - Llewellyn Motors will ensure the guests receive the best Motoring Confidence.
To know more about Llewellyn Motors, their services and offers, visit https://www.llewellynmotors.com.au/.
Source: ThreeBestRated
Share:
---
Categories: Automotive
Tags: CarDealership, LlewellynMotors, ThreeBestRated
---
ThreeBestrated®
14225 Falcon Head Blvd, Building E (218)
Austin, TX 78738
United States