Hyderabad's Leading Fertility Clinic, Dr. Padmaja IVF Center, Wins the 2020 Three Best Rated Award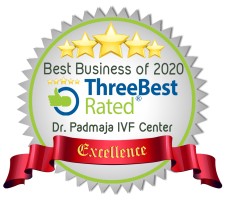 HYDERABAD, India, June 23, 2020 (Newswire.com) - Dr. Padmaja IVF Center, one of the top-rated fertility clinics in Hyderabad, Telangana state, has recently won the 2020 Three Best Rated® Award for best fertility clinics. In recent years, Fertility clinics have become the center of hope for couples who are struggling to bring a progeny into the world. Dr. Padmaja IVF center has been illuminating the lives of numerous childless couples facing infertility issues, through affordable and excellent treatments with high success rates.
Three Best Rated® has conducted a rigorous 50-point inspection on various aspects pertaining to the clinic's healthcare, to recognize them with the prestigious 2020 Three Best Rated Award.
About Dr. Padmaja Divakar
​Dr. Padmaja Divakar is the sole practitioner of the IVF center. She is a post-graduate in Gynecology & Obstetrics and has practiced and was trained in IVF in different institutions before founding her clinic. She founded Dr. Padmaja IVF Center with the help of her husband and has been successfully running the IVF center for more than 15 years.​
Specializations and Achievements
The IVF center has helped a lot of infertile couples to realize their dreams of becoming a parent. Dr. Padmaja says, "Somehow I'm excited whenever I see tears of joy flowing down the eyes of infertile couples seeing their own baby is born, with ART help, who are desperately trying to have one for a long time."​
The IVF center has been a fertile ground for giving birth to 10,000 IVF/ICSI babies in the last decade, including 2,800+ babies through surrogacy. Usually, the results in the ART field are 20% in IUI, 30% in IVF, and around 40% in surrogacy across the world. But with personalized protocols, sincere case study, choosing the right procedure required, using the right dosages of hormones for stimulation, the morphological study of sperms of the husband, and with best pieces of equipment, Dr. Padamaja IVF center was able to obtain double the usual success rates. They have been consistently able to achieve the success rate of 80% to 90% in surrogacy, 70% to 75% in IVF/ICSI, and 35% in IUI.
Dr. Padmaja IVF Center takes pride in being recognized as one of the best surrogate homes in the country, with a capacity of up to 200 surrogates. The surrogates are taken care of with good accommodations, nutritious food, and daily medical care during their gestation. The IVF center was able to help a couple with a history of multiple IVF cycle failures to have a baby at the very first attempt after they visited the center. It will remain as one of their greatest achievements in the field.
Dr. Padmaja feels elevated and proud to be listed as one of the best fertility clinics in Hyderabad by ThreeBestRated. Dr. Padmaja IVF center has been continuously offering affordable treatments and maintains a good track record in helping hundreds of couples to cherish their parenthood.
Source: Dr. Padmaja IVF Center
Share:
---
Categories: Obstetrics and Gynecology
Tags: Dr. Padmaja ivf center, Fertility center, Hyderabad, Three Best Rated
---
ThreeBestrated®
14225 Falcon Head Blvd, Building E (218)
Austin, TX 78738
United States