Hyderabad's Leading Dental Clinic, The Dental Specialists, Wins the Prestigious 2020 Three Best Rated Award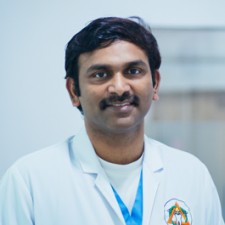 HYDERABAD, India, June 25, 2020 (Newswire.com) - ​The Dental Specialists, one of the distinguished dental hospitals in Hyderabad, TS, is now a 2020 Three Best Rated® award-winning hospital. Three Best Rated has conducted a strict evaluation using a 50-point inspection to list The Dental Specialists as one of the top-rated dental clinics on their website. With a team of expert dentists, world-class infrastructure, and an advanced state-of-the-art in house dental prosthetic laboratory, The Dental Specialists is a class apart.
The Founder - Dr. Venkat Ratna Nag
The Dental Specialists is the brainchild of Dr. Venkat Ratna Nag, one of the renowned dentists, and a prominent implantologists in Hyderabad. The dental clinic is a realization of Dr. Venkat's dream of creating an affordable and quality dental practice in India, with the highest priority on patient's delight. Dr. Venkat is a pioneer of TTPHIL implant technology, the latest trend in Implantology. He is an expert consultant in implant dentistry at various national and international conferences, workshops and is the most sought after implant specialist in India. He has performed more than 10,000 successful implants. Dr. Venkat shares his insights and knowledge with the upcoming generation of dentists at SB Patil Dental College, Bidar, as a professor of prosthodontics. His research articles published in numerous national and international journals have earned global accolades. Dr. Venkat is now one of the top implantologists in the world.​
Since the inception of The Dental Specialists hospital in 2007, Dr. Venkat never compromised on quality and service. His vision has always been the satisfaction of the clients. He makes sure the patient leaves the clinic with a smile regardless of the financial capacity of clients. The Dental Specialists clinic has grown into a hospital with a significant team of expert dentists in all fields of dentistry working full-time to cater to all categories of dental problems. Over 100 health workers working under the able guidance and supervision of Dr. Venkat is the driving force behind their success story.
Never-ending research and development, sheer hard work, dedication to the cause of dentistry, commitment to excellence, the minute attention to detail of every patient, before and aftercare, follow-ups, honesty, transparency and sincerity in offering the best of services, with only one priority- the patient's delight, have truly charmed and captivated the attention of not only patients but also dentists and researchers alike, across the world.
Dr. Venkat is a recipient of several awards and honors for his excellence in dental practice. Yet, he still considers a patient's positive feedback and satisfaction as his best achievement in the industry. Dr. Venkat feels grateful, indebted, and humbled about being recognized by ThreeBestRated. He says it increases his responsibility to perform even better. With cascading referrals from happy clients, Dr. Venkat has opened his clinic at two other locations to extend his practice for the benefit of a wide range of people.
Source: The Dental Specialists
Share:
---
Categories: Dentistry
Tags: Dr. Venkat Ratna Nag, Hyderabad, The Dental Specialists, Three Best Rated
---
ThreeBestrated®
14225 Falcon Head Blvd, Building E (218)
Austin, TX 78738
United States