Houston's Treemont Retirement Community Wins the 2021 ThreeBestRated® Award for One of the Top-Rated Assisted Living Facilities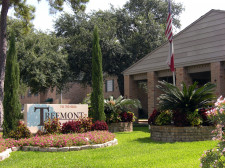 HOUSTON, March 4, 2021 (Newswire.com) - Everyone has their own plans on how they are going to spend their days after retirement. But if this pandemic has taught everyone anything, it is that humans are social beings, and they feel more at ease when they live together as a community.
Treemont Retirement Community is a 2021 ThreeBestRated® award-winning Assisted Living community in Houston and home to many happy senior citizens. Treemont is owned by the husband and wife duo, Lisa and Tom Witt.
"Treemont is very proud of our designation by ThreeBestRated® as one of the premier assisted living communities in Houston. We take pride in the fact that this designation is based on a 50-Point Inspection that includes everything from checking reputation, history, complaints, local reviews, nearness, satisfaction, trust, and cost to general excellence," Lisa says proudly.
Treemont Retirement Community:
Tom Witt, a Harvard MBA, purchased Treemont Retirement Community in 2003 after working for several Fortune 500 senior living companies. However, unlike the corporate world, his approach is much more decentralized. He entrusted his Executive Director and leadership team with the freedom to make decisions that work for each of the eight senior communities they operate.
"He understands that the hard work is done daily at each community and emphasizes to our Administrative Office staff that we are here to support the staff at our communities, not dictate to them," Lisa explains.
Lisa joined the business in 2013 after running a family video history business. And she immediately fell in love with residents and the staff at Treemont.
"Through discussions with seniors, including my own 80-year old dad with Parkinson and mom who wanted a more social environment, I understood the desire of seniors to stay independent yet supported as they age," Lisa says.
Two Key "Commandments":
The #1 Commandment, as stated in their Quilted Care/Treemont Executive Director "Bible" is "Thou Shalt Provide Great Customer Value and Service."
"We are only in business because of our residents, and it is our primary goal to understand their desires and wishes and make sure they are happy and get a great value from Treemont," she explains.
Likewise, Commandment #2 is "Thou Shalt Assemble Team of Great Employees," as they can only provide great value to residents with a devoted staff.
Treemont — A Continuum of Care Community:
Retirement living can provide a more supportive environment, one with more people around that offers carefree living with meals, housekeeping, and transport to doctors' appointments. At Treemont, there are many different living options - from Independent Living apartments to Home Health to assisted living to short-term rehabilitation spaces. There is no one-size-fits-all home, and Treemont's Resident Counselors talk through each option and the respective benefits to help the seniors make the best choice for their situation.
"Lupe Sepulveda, Linda Parra, and Keri Shaw are three of our Resident Counselors who understand the fear of change is actually one of the indicators that the current living situation might not truly be the best option for seniors because it is sort of okay. They work hard to help understand what seniors and families need and to explain why retirees deserve more than a sort of okay, even if Treemont ends up not being the right fit," Lisa says.
Getting Value for Your Money:
Seniors may be concerned not only about finding the right home but also figuring out if they can pay for this safer, happier way of living. You may find the cost of senior living at Treemont is about the same or not much more than you are already spending. Treemont's one-bedroom apartment rate is $1,750, which includes three meals/day, weekly housekeeping, transport to doctors/shopping, maintenance, activities, and most utilities (except cable and internet). This means the daily cost at Treemont is less than $59/day.
Safety during the pandemic:
During the pandemic, Treemont followed all Federal, state, CDC, and county guidelines on social distancing and sanitizing to reduce the risk of covid in their community. They conducted regular testing to identify asymptomatic residents and staff and contact trace to avoid a major outbreak.
Now that everyone has completed their second covid vaccine, they are hoping to return to a new kind of "normal" that permits a resumption of a full panoply of activities, parties, Backyard BBQs that permit robust social interaction among residents.
"A key benefit of senior communities is the ability to socialize and avoid the isolation seniors often have if they stay at home. The pandemic has taken a toll on many seniors. In senior communities like Treemont, residents develop late-life friendships. Even the shy seniors enjoy the opportunity to socialize three times a day at meals. We are excited to move away from meals delivered to apartments and re-open our dining room," she says excitedly.
To know more about them or book a free tour, visit their website, Treemont.com.
Source: Treemont Retirement Community
Share:
---
Categories: Elder Care
Tags: #bestbusiness, #houston_retirement_community, #ThreeBestRated
---
ThreeBestrated®
14225 Falcon Head Blvd, Building E (218)
Austin, TX 78738
United States