Gatineau Notary and Title Attorney, Scarlette Hage Wins the 2020 Three Best Rated Award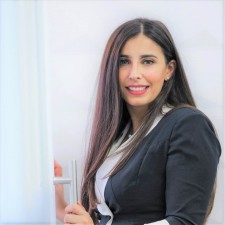 GATINEAU, Quebec, October 13, 2020 (Newswire.com) - ​​Scarlette Hage, of the Scarlette Hage notaire and Legal Office, one of the prominent notaries in Gatineau, Quebec, is designated with the 2020 Three Best Rated® Award for best Notary and Title Attorney in Gatineau. This award is a recognition of her excellence in providing fair and trustworthy legal services to the people in the province.
The expert team at ThreeBestRated has conducted a thorough analysis of various aspects of Scarlette Hage's practice using a 50-point inspection to bestow her with the ThreeBestRated Award. The 50-point algorithm involves checking everything from reviews, ratings, reputation, history, complaints, satisfaction, trust, and cost to general excellence.
SCARLETTE HAGE - SCARLETTE HAGE BUREAU DE NOTAIRE LEGAL OFFICE INC.
Right from her young age, Scarlette Hage has had a fascination and passion for pursuing a career in law. She said, "I have always wanted to represent and defend people's interests. Law School helped me fine-tune the area of expertise. That is why I became a real estate attorney in the province of Quebec, and I have been practicing successfully for more than ten years now."​
At Scarlette Hage's legal office, they take pride in their tailored approach and customer service. Scarlette Hage firmly believes that having a client-centric method is the key to their success. She said, "I try to relate to each client's different situations and adapt to their needs. Our clients really appreciate this. We make sure that every transaction is explained, and all concerns are laid to rest. We make sure that all our clients are satisfied with our services."
Scarlette Hage says, the day of her office grand opening at 765 Boul. St-Joseph, in Gatineau(Hull), was a moment she will always cherish in her career, because it was a celebration of a big milestone for her firm. Hard work and perseverance went into designing her office with her image in mind. Scarlette Hage always wanted a peaceful environment that her clients and staff could appreciate while conducting business. It takes the stress out of the way while keeping things professional.
She says having a good clientele and customer retention as one of her best achievements in her career. She said, "Having repeat business is always gratifying because you get to see the level of satisfaction that your customers have for you and your work. My greatest achievement is having wonderful clients and having industry partners that refer me to their clients, friends, and family because they trust that they will receive the highest level of customer service and professionalism for each transaction in a timely manner." Scarlette Hage also feels honored and humbled to be listed on Three Best Rated.
Scarlette Hage Notaire Inc is located at:
765 boul. St-Joseph, unit 102
Gatineau (Hull), Quebec,
J8Y 4B7
Tel.: (819) 568-8048
Email: scarlette.hage@notarius.net
Source: SCARLETTE HAGE BUREAU DE NOTAIRE LEGAL OFFICE INC.
Share:
---
Categories: Lawyers
Tags: #Gatineau, #NotaryPublic, #ScarletteHage, #ThreeBestRated
---
ThreeBestrated®
14225 Falcon Head Blvd, Building E (218)
Austin, TX 78738
United States