Dr. San Bhatha, DDS, of Southridge Dental, Wins ThreeBestRated® Award 2020 for Best Cosmetic Dentists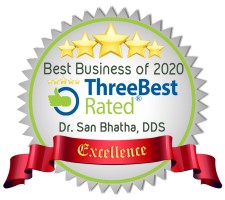 SURREY, British Columbia, April 14, 2020 (Newswire.com) - ​​Cosmetic dentistry offers real-time solutions to a wide range of dental irregularities. People actively opt for comprehensive treatments like teeth whitening, veneers, crowns, orthodontics, composite fillings, gum reshaping, and enamel shaping, etc. Besides the traditional cosmetic dental procedures, a few dentists offer technology-enabled, unique treatments to fix various dental anomalies. Likewise, Dr. San Bhatha, DDS, a Three Best Rated® Award-Winning Cosmetic dentist from Surrey, BC, shares the treatment procedures he has developed to meet the clients' unique dental requirements.
DR. SAN BHATHA, DDS - SOUTHRIDGE DENTAL
Dr. San Bhatha has been practicing dentistry since 2001. He has earned many accolades to his name and his clinic. Dr. San recognizes that dentistry is a profession that is constantly evolving. He and his staff take pride in remaining current within the field by regularly attending continuing education workshops on the latest technology, products, and techniques. As a part of it, Dr. San is currently active in many different study clubs such as VDEC Elite Dentists mentored by Dr. Wilson Kwong, Bites Implants mentored by Dr. Mark Kwon and Bernard Jin, Tri-Cities Digital Dentistry mentored by Dr. Bobby Birdi and Dr. Faraj Edher, PTIFA Botox/Filler Study club by Dr. Warren Roberts.
TECHNOLOGY-ENABLED UNIQUE TREATMENT PROCEDURE
Dr. San treats several unique dental conditions at Southridge Dental. "We are one of few offices offering a treatment called Perio Protect to help get rid of bacteria leading to poor gum health and cavities, which ultimately means we are improving our patient's overall health," says Dr. San.​
They have also started offering a treatment option called Healthy Start, especially for young patients. The healthy start treatment procedure is based on the removable soft appliances that kids can wear in their mouths to help guide their jaw growth and teeth position, and thus minimize any future orthodontic treatment and, more importantly, maintain a good open airway, and prevent the young patients from becoming mouth breathers.
Dr. San's clinic is equipped with a CT scan unit with a Digital Ceph unit, which enables them to check the entire jaw for any abnormalities, including any around the teeth that cannot be seen in regular X-rays. The Digital Ceph helps them in implant treatments and in helping young patients who want to improve their jaw and teeth position with healthy start and Invisalign. Apart from CT scans and digital Intra Oral scanners, they have Biolase Waterlase Laser for performing procedures on soft and hard tissue.
Dr. Sans Bhatha is a proud community dentist who involves himself in a lot of philanthropic activities and provided free treatments to patients who cannot afford dental treatments.
Remarkably, Three Best Rated® has recently awarded Dr. Sans with the Best Cosmetic Dentist award and has been listed as one of the top-rated cosmetic dentists in Surrey, BC.
CONTACT INFORMATION
5680 152nd Street #103
Surrey, BC V3S 3K2
Phone: (604) 243-6105
Email: info@southridgedental.ca
Website: https://www.southridgedental.ca/
Source: Dr. San Bhatha, DDS
Share:
---
Categories: Dentistry
Tags: Cosmetic Dentist, Dr san bhatha, ThreeBestRated
---
ThreeBestrated®
14225 Falcon Head Blvd, Building E (218)
Austin, TX 78738
United States