Dr. Rajesh Swarnakar Wins the 2021 ThreeBestRated® Award for One of the Top Rated Pulmonologists in Nagpur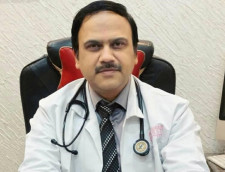 NAGPUR, India, April 5, 2021 (Newswire.com) - Dr. Rajesh Swarnakar has won the 2021 ThreeBestRated® award for one of the Top Rated Pulmonologists in Nagpur. ThreeBestRated® is a multi-national ranking website that lists the top three businesses, professionals, restaurants, etc.
Their business experts handpick each business using a strict 50-point inspection that covers everything from history, reviews, and ratings to complaints. And this year marks Dr. Rajesh's fourth win in a row.
"I owe it to my patients who trusted me & followed my advice," he says humbly. "My motive is to give my patients the best and evidence-based advice which helps them a lot and value for money," he further adds.
About Dr. Rajesh Swarnakar:
From his young age, Dr. Rajesh admired his maternal uncle, who was a doctor. Inspired by him, Dr. Rajesh decided to become a doctor to serve the community.
Dr. Rajesh got his M.B.B.S from the Indira Gandhi Medical College, Nagpur, in 1989. He then completed a postgraduate diploma in chest diseases from Government Medical College, Nagpur, in 1991. Later in 1996, Dr. Rajesh passed the National Board Examination (DNB) in respiratory conditions from the prestigious All India Institute of Medical Science (AIIMS), New Delhi, in 1996.
Dr. Rajesh is the pioneer of interventional Pulmonology in Nagpur. "I was the first to bring MiniBox Plethysmography Lung Function Test Machine to my Advanced Lung Care Centre in Nagpur from Israel, which can measure total thoracic gas volumes," he says proudly.
He was also elected for the Indian Chest Society, of which he is the current National Secretary-General. Dr. Rajesh is also the director & chief consultant - Respiratory, Critical care & Sleep medicine of Getwell Hospital and Research Institute, Nagpur. He is the President of Sanjeevani Education Society, Principal, Academy of Clinical Research Training and Director of Unik Klincal Services Private Ltd.
Dr. Rajesh has published/presented many research papers at national & international conferences. He has served as expert committee member for formulating Indian Guidelines on Asthma, COPD, Spirometry, Adult Vaccination, Nebulisation, Bronchoscopy & Interstitial Lung Diseases. He has been awarded the coveted Fellowship of the prestigious American College of Chest Physicians (ACCP) and holds membership of American Thoracic Society & European Respiratory Society. He is on the National Editorial Board of the leading National Journal in Respiratory Medicine "Lung India".
He currently practices at "Getwell Hospital and Research Institute" in Nagpur being its Director & Chief Pulmonologist having 30 years of experience in practicing Pulmonology. When asked about his plans for 2021, he says, "We plan to start a Post Covid Recovery & Rehabilitation centre to help those who survived the disease but are respiratory crippled due to post covid lung fibrosis."
Dr. Rajesh gives some advice to keep oneself safe during this pandemic. "Treat your body as a temple and invest your time in exercise, proper sleep and a good nutritious diet to build up your immunity to fight any pandemic," he says.
To learn more about him or book an appointment, visit https://www.practo.com/nagpur/doctor/rajesh-swarnakar-pulmonologist.
Source: ThreeBestRated
Share:
---
Categories: Healthcare and Medical News
Tags: #BestPulmonologist, #DrRajeshWarnakar, #Nagpur, #ThreeBestRated
---
ThreeBestrated®
14225 Falcon Head Blvd, Building E (218)
Austin, TX 78738
United States