Coimbatore's Renowned Urologist, Dr. C. L. Dinakaran, Wins the 2020 Three Best Rated Award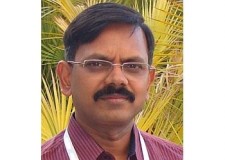 COIMBATORE, India, June 9, 2020 (Newswire.com) - Eminent urologist and a renowned physician Dr. C. L. Dinakaran, MBBS, MS, M.CH has recently won the prestigious 2020 Three Best Rated® Award for being one of the best urologists in Coimbatore, Tamil Nadu, India. Three Best Rated® is a multinational ranking site that ranks and lists the top three businesses, professionals, in any given location across India and five other countries. Dr. Dinakaran's position among the top three best urologist doctors in Coimbatore comes after a thorough evaluation and analysis on various aspects of his practice, using a 50-point inspection carried out by Three Best Rated.
Dr. Dinakaran hails from Paramakudi, a small town situated near Madurai, in the Southern part of Tamil Nadu. He pursued his MBBS from the Madurai Medical College and graduated in the year 1987. Prior to joining the MCh Urology course, He practiced in a reputed Urology Hospital in Coimbatore for around 12 years. It was 2001 when Dr. Dinakaran decided to pursue his solo practice in urology. And in the year 2008, he set up his own clinic, Arun Urology Hospital, in Coimbatore city. The clinic is a small facility with amenities to support inpatients and functions as a daycare facility.
The prime focus of his practice lies in Endourology, specializing in the laser treatment of urinary stones. He also specializes in male infertility, male sexual inadequacy, prostate diseases, and surgery, and enlarged prostate. Dr. Dinakaran keeps himself updated with the latest technological advancements in healthcare, and strives to provide the best quality healthcare to his patients. With around 33 years of experience, Dr. Dinakaran is one of the most sought after urologists in the city.
Dr. Dinakaran is a member of several prestigious medical associations such as the Indian Medical Association (IMA), urology society of India, and Endourology Society International and American Urological Association (AUA). Three Best Award® has honored Dr. Dinakaran with the best urologists award as an acknowledgment of his contribution to the healthcare of his patients and a recognition of his illustrious career.
Source: Dr. C. L. Dinakaran, MBBS, MS, M.CH
Share:
---
Categories: Medicine and Healthcare
Tags: Arun Urology Hospital, Coimbatore, Dr. Dinakaran, Three Best Rated, Urologist
---
ThreeBestrated®
14225 Falcon Head Blvd, Building E (218)
Austin, TX 78738
United States