Chennai's Leading Event Management Company, Maze Events and Exhibit Solutions Wins the 2021 ThreeBestRated Award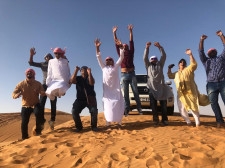 CHENNAI, India, April 24, 2021 (Newswire.com) - Maze Events and Exhibit Solutions, a fast-growing event management firm in Chennai, has recently won the 2021 ThreeBestRated® award. And its Managing Director, Zeba Amreen, is thrilled to receive the award. "We feel really honoured to have been listed in ThreeBestRated®," says Zeba cheerfully.
The ThreeBestRated® review team bestowed this title to Maze Events based on 50-point inspection data. The 50-point inspection involves checking everything from customer reviews, history, complaints, ratings, satisfaction, trust, the cost to general excellence.
About MAZE EVENTS AND EXHIBIT SOLUTIONS
Started in 2016 by a group of like-minded professionals from the event industry, Maze Events and Exhibit Solutions is now a prominent face in the event management industry in the city. Out of the three directors of the company, two of them come from the event management industry. They both have a combined experience of over 11 years in the industry. Their passion and experience in the industry are the inspiration behind starting the company.
What's special?
Maze Events specializes in all kinds of corporate events. They have successfully conducted 2000+ events in the last three years. They are experts in event planning, conceptualization, management, production, and live entertainment etc. Within a short span, they were able to generate a large client base with a good number of prestigious clients.
Maze Events is a well-organized event management company that offers extraordinary quality at a very competitive cost compared to many in the industry. "We provide fresh ideas and solutions for every event according to the nature of the event and requirement of the client," says Zeba. They view every event as an opportunity to create something distinctive to amaze the customers.
The team of professionals at Maze Events specializes in providing tailor-made solutions to their client's unique needs. When the pandemic hit, they swiftly shifted their focus on conducting virtual events. Zeba says, "The year 2020 was a game-changer by nature. We had to shift from our comfort zone from physical events to Virtual events for the comfort & safety of our clients. The year 2021 started with a bang with a good number of events. Our team looks forward to ideating and executing some new interesting events both physically and virtually in the coming months."
Maze Events and Exhibit Solutions has conducted various events in two and three-tier cities across India. They also had the opportunity to manage a few international events. To know more about them, visit - https://www.mazeevents.in.
Source: ThreeBestRated
Share:
---
Categories: Event Planning and Management
Tags: #Chennai, #Eventmanagementcompany, #MazeEventsandExhibitSolutions, #ThreeBestRated
---
ThreeBestrated®
14225 Falcon Head Blvd, Building E (218)
Austin, TX 78738
United States