Associate Partner of the Mortgage Store, a ThreeBestRated® Award-Winning Mortgage Broker, Explains the Benefits of Hiring a Mortgage Broker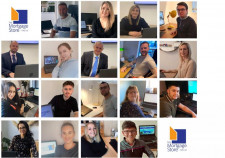 MILTON KEYNES, England, February 27, 2021 (Newswire.com) - Mortgage brokers are the middleman between lenders and borrowers. They help people connect with lenders who fit their requirements. In short, if you are shopping for a mortgage, mortgage brokers can make things easier for you.
But some might still feel reluctant to work with a mortgage broker. That is why ThreeBestRated® asked Warren Morris to explain the benefits of working with a mortgage broker. Warren is the Associate Partner of The Mortgage Store, a 2021 ThreeBestRated® award-winning mortgage broker from Milton Keynes.
Although there are many benefits of working with a mortgage broker, Warren points out some of the notable benefits of working with a mortgage broker when purchasing a property:
Product Knowledge and choice - Being able to compare thousands of different products between a wide variety of lenders, they can find the best-suited product from across the market to suit the specific needs of a client.
Communication - They keep the clients updated and are always there to support the customer with any queries that they may have throughout the process of buying or re-mortgaging their property.
Speed of process - They have direct links to specialist teams at the various lenders, which allows them to expedite tasks and outstanding issues on behalf of their clients to enable a quicker result.
About Warren Morris - The Mortgage Store:
Warren Morris started off as an agent for London & Manchester and then moved on to become a financial advisor at Pearl Assurance. He has been working in the financial sector for about 27 years now.
"After starting to get involved in the mortgage side of the business, I soon realised it was an area that allowed me to have an instant impact on supporting clients to achieve their objectives, whether buying a home or saving them money. A genuinely good feeling," he says.
"I quickly gained a strong passion for helping clients to secure their dream homes and also saving them money by regularly reviewing their mortgages," he further adds.
By retaining those clients and building new strong relationships, Warren built a successful business within the mortgage industry. "My first role as a Mortgage Advisor was at The Woolwich in 2000 as a branch advisor, which I continued for just over two and a half years, after which I moved on to an intermediary role in order to advise on mortgage products from across the market," he explains.
"I have been working at The Mortgage Store for the last 15 years and during that time become an Associate Partner within the business having built a successful team of Advisors around me in the Milton Keynes area," he adds.
Over the years, he has worked closely with people from non-industry backgrounds and helped them become successful mortgage advisors. "A prime example was a 16-year-old boy who joined us from school on an apprenticeship scheme with Milton Keynes College. He later achieved all three industry qualifications whilst also learning the job in a support role. Now, at the age of 20, he is going through the final stages of being assessed by our network to become a Trainee Mortgage Adviser within our business," he says proudly.
This year, Warren and his team are planning to focus on building relationships with local business to discuss providing their staff with a go-to resource for mortgage and protection advice.
The mortgage Store has been listed as one of the top rated mortgage brokers in Milton Keynes by ThreeBestRated® since 2016. And they are honoured to receive this award once again in 2021. "To be identified by ThreeBestRated® is praise indeed, as it is judged by an independent panel that looks at everything important to a prospective client and grades us accordingly. To be rated in the top three along with all the client testimonials we receive makes all the hard work so worthwhile and gives absolute credibility to our business," he says proudly.
To know more about The Mortgage Store and the services they offer, visit their website, the-mortgagestore.co.uk.
Source: ThreeBestRated
Share:
---
Categories: Mortgages and Loans
Tags: #bestbusiness, #mortgage, #ThreeBestRated
---
ThreeBestrated®
14225 Falcon Head Blvd, Building E (218)
Austin, TX 78738
United States