Admiral Windows & Conservatories, a 2022 ThreeBestRated® Award-Winning Window Fitter Company From Oxford, UK, Shares the Benefits of Using Stormproof Casement Windows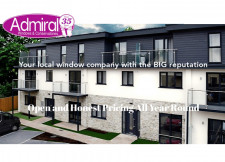 OXFORD, England, April 8, 2022 (Newswire.com) - There is nothing more uncomfortable during a brutal winter or excruciating summer heat than having windows that can't open or are broken, damaged and poorly sealed. The conundrum that most homeowners face with this problem is: Window repair or new windows? Everyone loves new things, but let's face it - sometimes people can't afford the "new" part.
So, if the windows aren't working adequately, the hinges are stiff, and nobody wants to go close to them, it's time to think about making a change. After the decision, another question comes to mind - what kind to choose and why? It's a tough choice predicated on the idea of trust and knowledge. For convenience and peace of mind, it's always better to consult an experienced Window replacement & repair provider like Admiral windows & conservatories (a ThreeBestRated® award-winning window fitter).
It's all in the details - the benefits of Stormproof casement windows
Stormproof casement windows are one of the popular choices for people living in the UK looking to replace their windows. They bring two advantages - enhanced insulation during strong winds, plus complete utilisation of space around the windows. According to Admiral windows & conservatories, "Offering classic lines and outstanding functionality, Stormproof casement window styles attract homeowners. They remained a mainstay for generations thanks to their numerous benefits, which include:
Energy Efficiency
Noise Reduction
Exceptional Airflow
Safety & Security (Peace of mind)
Warp & weathering resistance
Admiral windows further say, "We use the terminology Stormproof as our windows come with a "Rolled In Gasket" known as Qlon, which compresses and retains its original shape better than a rubber gasket. We also use good-quality hinges and shoot bolt locks rather than just espagnolettes for better compression. We also have experience packing the glass correctly, which affects the airtightness of the casements when closed."
A good window fitted poorly never performs to its potential.
About Admiral windows & conservatories
Admiral windows & conservatories is a two times ThreeBestRated® award-winning window fitter company in Oxford, UK, with over 35 years of experience in the Window replacement & repair industry. Founded in 1986, as a replacement window installer, Admiral has built an enviable reputation as a local & community favourite business providing services like Window repair & replacement, Door repairs, Solid roof replacement, roof trim (fascias & guttering), cladding, and Foggy or misted glass repair/replacement.
Started as a small company with big ambitions, Admiral offers the best product and service at the best possible price (open & honest pricing) to the people in the Oxfordshire area. Their long history as a well-established company and excellent results, experience, and meticulous attention to detail make them the first-choice window installer in Oxfordshire. They are also trusted to be a premier installer in high-complexity projects by local councils, government bodies, hospitals, colleges, and schools.
On winning the 2022 ThreeBestRated® award for one of the best Window fitters, Admiral windows say, "We have built a business of great integrity over the past 35 years by working efficiently and professionally. Quality is the best form of warranty. We offer unrivalled aftercare to our customers. It builds customer confidence, and the ThreeBestRated® award enhances that confidence."
Avail the services of Admiral windows for window replacement, new door fitting, new conservatory, or replacement of rotten roof fascias. They provide the right products from the right people at the right price.
To know more about Admiral Windows and its services or for a free quotation, visit https://www.admiralwindows.co.uk/.
Source: ThreeBestRated
Share:
---
Categories: Windows and Window Treatments
Tags: AdmiralWindows, BestWindowServices, StormproofWindows, ThreeBestRated, WindowReplace
---
ThreeBestrated®
14225 Falcon Head Blvd, Building E (218)
Austin, TX 78738
United States