2022 ThreeBestRated® Award-Winning AMC Authentic Education & Migration Pty. Ltd. Shares Tips for Hiring a Migration Agent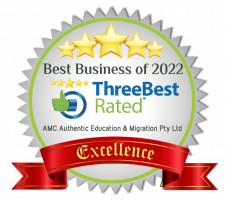 HOBART, Australia, March 7, 2022 (Newswire.com) - People migrate to Australia for various reasons. However, one of the top reasons people migrate to Australia is to pursue education. Australia has relaxed immigration policies and offers high living standards to its citizens. Migration agents play a vital role in helping immigrants to settle in Australia. The first step towards immigrating to Australia is to hire the best migration agent so that aspiring immigrants can feel at ease when they are at the hands of a seasoned migration agent. So, what are the things to be considered before choosing a migration agent?
AMC Authentic Education & Migration Pty. Ltd., a 2022 ThreeBestRated® award-winning migration agency from Hobart, offers advice in choosing the right migration agent.
Tips to be remembered before choosing a migration agent:
Always use a local migration agent.
Read the migration agent's online reviews and check with friends who used their services before.
Ask the agent if there have been successful cases in the past.
Most importantly, have a consultation to feel whether this migration agent has the heart to take care of your case.
Choosing the best migration agent helps you realise your immigration dreams without any fuss.
About AMC Authentic Education & Migration Pty. Ltd.
Ricky Lei established AMC Authentic Education & Migration Pty. Ltd. in September 2019 to help international students realise their dreams of studying and migrating to Australia. He became a registered migration agent in April 2018. Before starting the migration agency, Ricky Lei worked for a local Australian company in the education and migration industry.
Ricky Lei, a migrant himself, pursued his Masters from the University of Tasmania. He made several attempts to clear the IELTS exam. That was when he realised the importance of English learning, especially in many international students' immigration pathways. And he wanted to help such students to get an opportunity to study in Australia.
Over the years, Ricky Lei and his team at AMC Authentic Education & Migration Pty. Ltd. have helped hundreds of clients to receive their TAS state nomination invitations for permanent visa applications and helped hundreds of students find their suitable career pathways. They have recently won the prestigious ThreeBestRated® award for best migration agencies in Hobart. Upon winning the award, Ricky Lei said, "We are honoured. It gives a sense of acknowledgement and encouragement."
AMC Authentic Education & Migration Pty Ltd Provide honest and reliable migration/education guidance based on each individual's particular circumstance in the context of the fast-changing migration policies. To get in touch with them, visit https://www.amcmigration.com.au/.
Source: ThreeBestRated
Share:
---
Categories: Immigration and Nationalization
Tags: Hobart, MigrationAgents, ThreeBestRated
---
ThreeBestrated®
14225 Falcon Head Blvd, Building E (218)
Austin, TX 78738
United States